Very often, we see one motorcycle pulling another one along with a rope. Recently, we saw two cars doing the same thing. I don't know enough about cars but wouldn't it ruin the gearbox or whatever thingi in the car if you just drag it along on all four wheels?
The traffic moves so slowly here that having these two cars on the road didn't slow things down noticeably. There is always lot of traffic, a lot of motorcycles in between and a lot of huge potholes so, everyday speed here is about 40km/h. When we hit 60km/h, I start to feel like we're speeding!
I circled the rope in white but its still hard to see. If you click the photo and see it in its original size, you can see the rope quite clearly.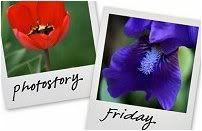 Hosted by Cecily and MamaGeek