If we hadn't moved to Palembang, I would never have guessed that Good Friday was a public holiday here. I would also never have realized that the world's
most populous Muslim-majority nation
had so many over crowded churches. According to Wikipedia, only 8.7% of the population here is Christian but, 8.7% of 237 milion people is A LOT.
On normal Sundays, the church is already full to the brim. On days like today, they put up a temporary canvas/tarp roof outside the church. There is a photo of what the church normally looks like
here
. Today, the outside looked like this:
Arriving at 2:30pm, we were 30 mins early and managed to grab three of the last few seats outside. There were a few TVs outside so that the select few who had seats in front of the TVs could see what was going on inside. We weren't one of those but at least we were in front of a fan. Unfortunately, 45 mins into the service, it started to rain so heavily that water was soaking through part of the temporary roof. We were shifted
behind
the fan. And there we stayed until 5:08pm. No no, I'm not complaining. In fact, we had a very smooth time there. Aaron was kept contented the whole time with color pencils and scrap paper. In fact, all the children I could see were well behaved considering how long they were kept there.
I hope Aaron (and the other kids) will give us a repeat performance when we go for the Easter Mass. Its going to be just as long ... or even longer.
Have a happy Easter weekend everyone!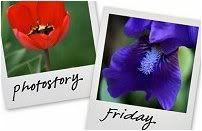 Hosted by Cecily and MamaGeek