This is Facebug. Or maybe I'll call it
"Smelly Facebug"
because its defense mechanism (apart from that warrior like mask) seems to be an awful stench that hangs around long after it has left.
We found him outside in the garden but it moved too fast for me to get any decent photos. So, I put it in this container for a little while to get a better look.
Actually, we often come across different looking bugs (although this is the first colourful one) but I never know their names. I should make more of an effort to find out what they're called instead of just making names up myself.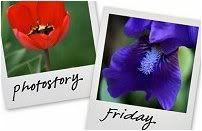 Hosted by Cecily and MamaGeek
p/s: My next post will be on Tuesday because we're going to Jakarta for a long weekend. YAY!