These few weeks has seen a surge in Aaron's independence. Little by little each day, he has started to make up his own games. All these photos were taken today. After waiting over two and a half years for a day like this, I didn't know what to do with myself so I just watched at first then thought I should capture the moments.
Not only does he play by himself, he's able to get himself a drink and later on, go pee as well. I know I won't be out of a job anytime soon but it looks like I might be able to take on some
other
jobs soon. Or maybe, I can start delegating things like folding the laundry. He seems interested in that!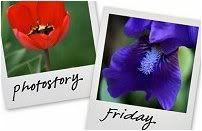 Hosted by Cecily and MamaGeek