Last week, I was in a big hardware warehouse. They had all the usual drills, ladders, wheel barrows and whatever else needed for handyman type stuff.
Strangely, they also had a section of children's outdoor toys including a cubby house and a backyard jungle gym. I remember looking at it and wishing we lived here in Brisbane so I could get him the cubby house. It wasn't overly expensive but it also wasn't an amount I was willing to pay since we'll only be here for a few more weeks.
OK. Fast forward to this week. We were driving through a suburb that was having their annual large "junk" items pick up. Once a year, the Brisbane City Council will come through the neighborhoods to pick up oversized items that you can't put in your weekly bin. Things like mattresses, TVs, ovens, fridges etc.
We were on the way to the library and just laughing at the stuff that people were throwing away. Suddenly, we saw a cubby house!!!
Someone else's junk is now Aaron's treasure :)
We've put it on the deck because its been raining so much. Its also not a "house" according to Aaron. He calls it his restaurant and here he is handing out my order of fried rice.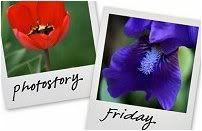 Hosted by Cecily and MamaGeek