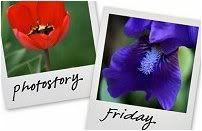 Hosted by Cecily and

MamaGeek
My grandmother was a seamstress and my mother has picked up quite a bit from her so I'm hoping the sewing gene is in me too. I've never learnt how to sew and my mother didn't do much of it when we were growing up in the house but I really enjoy it. I make up my own techniques as I go along and end up with less than perfect creations but I always find it so fulfilling. The main problem is that I hold my breath whenever I step on the sewing machine pedal and I always end up with a headache after awhile!
I don't have a sewing machine in Palembang so I'm hoping to make use of my mother's one while I'm here. This is what I made for my mother.
Its a type of tote that closes up without zips or buttons. Not quite perfect but I'll be making another one for myself so at least I'll know where the pitfalls are.