There are so many aspects in my life that seem to have zoomed past. All of a sudden, today is Aaron's 3rd Birthday. The funny thing is that the past 3 years with Aaron has moved at just the right pace. Yes, my days are often excruciatingly long but maybe that is a good thing. I have LOTS of (extra) time with him to cherish.
Being a mother, and the stay-at-home variety is definitely the job for me. I wouldn't want to miss any part of his life. He is such an amazing little guy and I am grateful for the bond that we have developed. I'm so proud of the little person that he has grown into - loving, caring, funny, cheeky and sensitive.
Here are some of my favourite photos of him:
This was his favourite sleeping position. Even if we put him on his back, he'd roll over and do this. He still sleeps this way now...
He was really easy to feed...
First contact with grass...
I think this is my absolute favourite. Just look at those innocent eyes...
He loves his pencil and paper...
And also his guitar...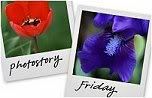 Hosted by Cecily and MamaGeek
Happy Birthday Aaron!