I had to go fix my visa at the immigration office yesterday. It was located right on the other side of town, in the outskirts of Palembang. The drive, as usual, was interesting.
Here are some homes directly opposite the office.
We purposely turned around again to get this photo because I was too busy staring and imagining what it must be like to live in that little back portion. Forgot to take the photo the first time around.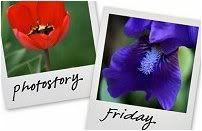 Hosted by Cecily and MamaGeek