The girl in the bottom right is my grand aunt. I found this photo in her house. In comparison to her two older sisters standing at the back, I thought her young face looked full of happiness and expectation of a bright future.
This is my grand aunt now, at 70. She married my grandfather's brother when she was in her 30s and he in his 50s. They never had any children and she now lives alone in the little house he left her.
I'm pretty sure her life turned out to be very different from what she expected it to be when the first photo was taken. I don't have all the details but I'm sure it wasn't an easy life. Yet, she is one of the most contented people I know. While she doesn't have a lot of money and hardly any visitors she is seemingly happy and very healthy. Not-jumping-for-joy happy but she definitely accepts everything in her life.
I think the secret to her contentment is the fact that she has no expectations. She has no children, very little family left and hardly any friends so she doesn't expect anybody to visit her. She has no income and lives on her meager savings so she doesn't expect to own or do anything fancy.
I'm not saying that I want to live the life she's living when I'm 70 but I hope that I will be as contented as she is. In comparison to many other old people I know (who have families and even live with one of their children), she seems to be the one most comfortable with her existence because she does not expect anybody to do anything for her. Its sad, but its also very admirable.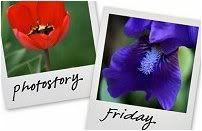 Hosted by Cecily and MamaGeek