I'm always grateful when its Richard's turn to watch Aaron. I get a chance to do things uninterrupted. Its great!
Saying "Richard's turn" makes it sound like watching Aaron is a chore. Its definitely hard work but its not a chore. Anyway, Richard sees so little of Aaron during the week that he is more than willing to spend the whole Saturday afternoon and Sunday playing the hands on dad.
But look what happens when I don't pay attention to what the two of them get up to. I hope that paint is what it claims to be - NON toxic.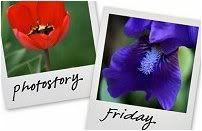 Hosted by Cecily and MamaGeek