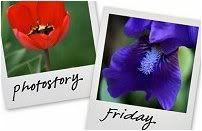 Hosted by Cecily and MamaGeek
Aaron's two big obsessions, up until now, has been Thomas (and ALL his friends) and The Wiggles. Now, we have something to add to the list - Excavators.
When we're in the car and we :
A) See one: He lets out an excited squeal and yells out "Excavator!"
B) Don't see one: He repeats "Where is the excavator?" every 2 seconds until we see one.
We found this little bobcat parked down the street from us and it was good enough to serve as an "excavator" for Aaron. He loved it up there but we didn't have any problems getting him down.
As his itchy little hands were fiddling around with everything, they happened to press the horn. A LOUD one. That got him down nice and quick!