Everything is back to normal now. My mother and grandmother went back to Malaysia this morning. Things feel a little quiet at home but we'll get used to it soon.
Usually, Aaron is constantly on the move and bouncing from one activity to the next. It surprised me that he was able to slow down his pace to match his great grandmother. He seems to know that he has to be more gentle with her and cannot demand the same sort of high energy games. Sometimes, when we're out, he insists on "helping her" and tries to provide some sort of support when she walks.
I'm thankful that the both of them have been able to spend so much time together. I took this photo of the both of them when Aaron was about 8 months old.
And here they are, two years later.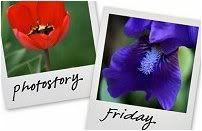 Hosted by Cecily and MamaGeek