I've finally changed my profile picture.
For those of you who don't remember what it was - GOOD.
For those of you who do, start forgetting NOW.
When I started this blog a couple of years ago, it was right after a trip to Bali. I just grabbed one of the only photos of Aaron and I together and slapped it up there.
Anyway, I think its time for a change to something a little more subtle. This photo is from the same trip to Bali. Now you can look at my back instead.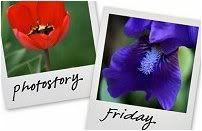 Hosted by Cecily and MamaGeek