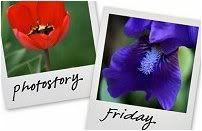 Hosted by Cecily and MamaGeek
After my
banana bread disaster
earlier this week, I was determined to get things right fast.
Its difficult to make any sorts of snacks in Palembang because we don't have an oven and its hard to get the ingredients so I want to fully utilize the time here in Brisbane.
So, when he work up at 5.30am this morning, we both got out of bed and headed to the kitchen. I was very organized this time and did everything as instructed by the recipe. By 7am, the aroma in the house was fantastic and we had 12 delicious Blueberry and Lemon Muffins.