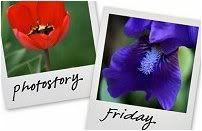 Hosted by Cecily and MamaGeek
Apart from the trip from Palembang to Brisbane, today is the first time Aaron and I have been on an "big excursion" alone. Of course, we go for short outings everyday but never for something that takes a whole day. Today, the both of us took a 1 hr drive north of Brisbane to
Alma Park Zoo
. He was an angel in the car.
When we were there, he was the perfect little guy. Cute, obedient and full of smiles. He missed his morning nap but still, he behaved.
He finally did fall apart right at the very end when a deer came, snatched our bag of feed and munched everything up (including the paper bag). We headed straight for the car and he was asleep even before I left the car park.
I really had a wonderful day and I'm pretty sure Aaron did too. Its great that he's now old enough for us to do things like this together.
While I have many cute photos of Aaron, it might be this shot of the donkey that will stand out in my mind.