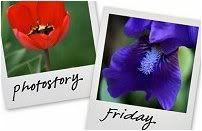 Hosted by Cecily and MamaGeek
Photostory Friday today is all about living with lighting fast toddlers.
Look at that face.
2 seconds later.
I should have expected it. How could I let myself believe that this particular 'painting' session would be any cleaner than the others.
Alright, gotta go. Have to get that lighting fast and constantly moving toddler to settle down and go to sleep so I can watch the opening ceremony of the Olympics.
UPDATE (1 hr later):
I am the ONLY person not watching the opening ceremony right now. I'm also not going to get to watch ANY of the games. I had just assumed that there would be coverage of the largest sporting event going on but nooooo....we don't have it here. Can you believe it? Why am I paying so much each month for TV when I can't watch the most exciting TV of all? Supposedly one of the local stations will have coverage, and supposedly, I have that station but all I'm seeing is some crappy local goth band! Something needs to be done tomorrow.