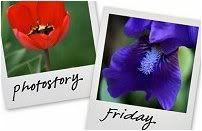 Hosted by Cecily and MamaGeek
It was exactly a week ago that we went to check out the Palembang Train station. In
last week's Photostory
, I showed a deserted train station. This week, its the complete opposite. All the trains leave before 10am in the morning so thats why I didn't see anybody last week.
The place was full of travelers this morning. Thank goodness I didn't decide to try the economy class train to somewhere far away. Those carriages aren't air conditioned yet they had windows that were all half closed so, you can imagine the noise, heat and smell in there.
We took a ride on the new student's train to UNSRI (Universitas Srivijaya). Thats the one and only stop that the train makes and is only for students.
The two things I'll remember from the ride are: Firstly, they keep the doors open for half the journey! Two big doors on either side of the carriage, wide open, even when the train is running at full speed. I have no idea if they do this when the carriages are packed with students though.
The second thing is strange. The train reaches this little "stop", drops a man off and then reverses about 200m. The guy climbs a fence and goes into a little two story building to where the controls are I suppose and changes the rail alignments so that the train can go left to UNSRI. I don't know "train speak" so forgive me for all the inappropriate terms I'm using. We didn't pick the guy up afterwards so, I wonder if he just stays there for the rest of the day.
Here's what the scenery is like 2 mins out of Palembang. Its mostly paddy fields but they did have a few rubber estates in between.
OK. I just have to add this. I tried my best not to drink too much before leaving the house but I had to go to the restroom at the UNSRI stop anyway. To my surprise, it was clean but it must surely be the smallest restroom
in the world
! I swear, the width there is only the width of my shoulders. You can use the normal sized bucket at the bottom of the photo for reference.
For those of you who have never seen a toilet like this, its a squatting one and very common in Asia.