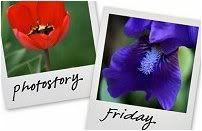 Hosted by Cecily and MamaGeek
I took this photo yesterday morning. There is nothing really special about the picture but I wanted it as a reminder of what Aaron was saying and doing lately.
"Do like Mama"
Right before I went to get the camera, I was pushing the earth up around my little plants because they were falling over. Aaron was right there trying his best to be helpful. Before that, when I was picking up dead leaves from around the place, he was also helping me with that.
I feel so special to him right now. I'm his everything.
He wants to do everything with me.
He wants to be like me.
He wants to help me.
He wants me happy.
The other day, when he saw that I had finished my portion of the watermelon we were having, he offered me some of his. When he sees that I've accidentally knocked myself or cut myself, he tries to make it better. He is so sweet and so adorable.
I'll enjoy it while it lasts....