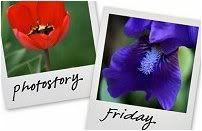 Hosted by Cecily and MamaGeek
This was taken in January 2007 when Aaron was about 5 months old. Obviously, he was balding but at the time, I just couldn't see it.
I'm serious. Everybody would ask me what happened to him and I'd look at him and wonder what they were talking about. I could not see it. He was still the cute little baby with a head full of hair. Everybody must have thought I was in denial or something because I'd always say "He's not balding. I don't see any difference."
I really wasn't denying anything. For a long time, I just couldn't see that he only had that thin furry layer on top.
Its funny how the brain is able to process the image such that it matched what I had stored in my mind instead of showing me reality. I hope I'll be able to recognize other more serious things in the future like me spoiling him too much or him acting out unnecessarily. It would be terrible if I just continued to see the things I liked to see....