For this week's Photostory Friday, I'm featuring my favourite food - Steamed Freshwater Prawns. These are steamed with Chinese cooking wine and a little bit of egg.
I like these so much that I always finish my rice first so that I can concentrate solely on them. I use my fingers to peel the shells off even when they are still hot. And then, after savoring all the prawns, I just let my fingers air dry. Yes, it may sounds gross but I like the smell of the prawns on my fingers for a little while after the meal. Anyway, I don't touch anyone and I usually wash my hands by the time I get home.
The prawns in the above photo are on the small side but its all thats available these days. We used to get them as big as my palm but I guess I'm not the only one who loves them so much.
The bigger restaurants in the cities have large ones but these are all farmed and full of antibiotics. I don't go for those. We had these in a small town, Gopeng, outside Ipoh where the people still go to the rivers to catch the prawns.
The restaurant is part of a bus station. Its an extremely humble establishment but the food there is amazing (of course!). The prices were incredibly reasonable too.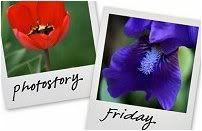 Hosted by Cecily and MamaGeek
p.s. I'll be going to Kuala Lumpur for the next three days so my next post will be on Monday. Have a good weekend!