I try to be a polite person and I get extremely annoyed if I hear Richard being rude to anyone. He's actually extremely polite person but there is something about speaking in Indonesian that makes him come across as condescending and rude. I'm pretty sure he doesn't mean it. Anyway, it was only this morning that I was telling him about this. Then, it was my turn.
I think
this
post is before any of my regular readers started reading. Its all about our electricity woes here in this house. Recently, things have been getting worse and we often have 4 or 5 power trips
each
night. It seems to happen more at night than in the day time.
We finally called Palembang's power office and they sent somebody over to check things. The guy checked things out and tried to tell me we had too many appliances on and that we don't really get to use the full 2200W because some is lost on the way. He said some other stuff as well and started to pack up. He was going to leave!
In my limited Indonesian, I kept trying to ask him why things have been different recently with the 4 or 5 trips each night even though we have no new appliances and have even reduced the number of lights we turn on in the hope of stopping them.
This was when I think I might have offended him. I think I said something about paying free money because all the trips mean that I don't actually end up using any of the electricity. After that, he seemed to just ignore me.
The good thing is that he agreed to check outside as well. Maybe he was too lazy to do this in the first place:
With the aid of a rope, he scampered up and down there without his shirt or pants touching the rusty pole!
After he fiddled around, he announced that we now have additional voltage coming in. A whole 10 volts extra I think. Not the full amount to power 2200W worth of appliances but a little bit more.
I felt bad when the guy started ignoring me. I think he was offended. And I felt bad that I offended him because he's really just the technician working for the power company. I was irritated with trying to explain things to him but I think I could have been nicer. I still think he was trying to get out of doing some work but that was no reason for me to be rude.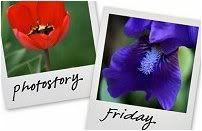 Hosted by Cecily and MamaGeek