Aaron is one lucky little boy to be able to enjoy time with his great grandparents. Here he is with his great grandfather.
There may be an 87 year age gap between them but they still manage to have evening walks together. One of them is getting hard of hearing and the other still has problems pronouncing some of his words but that doesn't stop the chats they have.
It is the hope for moments like these that I often end up extending my stay in Ipoh for.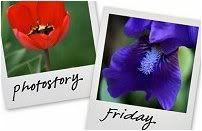 Hosted by Cecily and MamaGeek