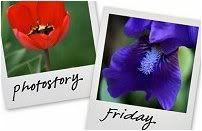 Hosted by Cecily and MamaGeek
We're getting there. Slowly but surely, we have had progress with the toilet training. This week, we have been taking bold steps out of the house - diaperless. A couple of times, it was because the mother was a little forgetful and forgot to put one on the toddler. However, the important point is that there were no accidents (until this morning).
Aaron has been able to call out for all his No. 1s so far. And, he has been willing for other people, apart from me, to take him. He's gone to the mensroom with my father several times now and has taken to calling himself a 'Good Man' after each successful visit.
This photo was taken at the exact moment that a No. 2 accident was taking place. Usually, I can tell by looking at his eyes that something is about to happen but because of that too-big-cap, I didn't see it coming. Thankfully, we were the only people at the park. I'll spare you the details but I do have to mention that the two of us were a perfectly calm team in the aftermath cleanup operation.