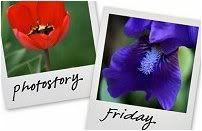 Hosted by Cecily and MamaGeek
This was taken at Pangkor Island, Malaysia where my family had 3 wonderful days by the beach earlier this week. My parents, brother and I spent many weekends at Pangkor when we were growing up. Memories of camping there are some of the most vivid I have of my childhood.
Now, both my brother and I are married. And, there is a grandchild in the family. We no longer camp but this small motel by the beach provided just as much fun (or even more) than the tents. I'm just waiting for my brother and his wife to add another grandchild into the picture and this family will be even richer than it already is.